Kids flying sport kites on their own! This was a dream of Walter Plummer for many years. After many months and obstacles, his dream became a reality this past July 2016.
Walter began working in earnest late December 2015, calling several sport kite pilots, Troy Gunn and me, Gary Maynard. Also rounding up sponsors and a venue to hold the event. Hopefully, this event would be the beginning of regular workshops with the goal to have Jamaican children immersed in the world of sport kiting, increasing interest in kiting. Eventually Walter hopes the sport grow to the point that they would have kite teams, and to possibly field a team to represent Jamaica in the World Cup.
Walter presented this vision to several kids at a local high school resulting in several of them registering in eager anticipation of the event. Now that the location, date and registrants were all set, it was time to make it happen. Unfortunately, Troy Gunn had some health issues and would not be able to attend, so Jon Trennepohl went in his place.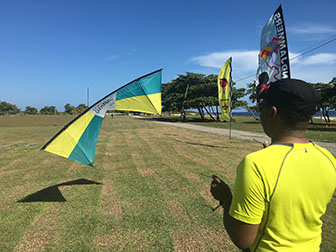 It was then time to get some hands-on flying. We broke into two groups. With the sun beaming down and a steady wind off the shore, it would be somewhat challenging for some of the smaller girls. I handed the handle to the first one to step up. As I have done for many years and countless times in the past, it was necessary to guide their arms. The smiles were instantaneous! Each kid enjoyed the pull of the kites and the power of the wind. They picked up on the basics rather quickly and within a couple of hours, each one was able to fly on their own and set up their kite after a crash. We stopped for a lunch break of traditional Jamaican Patties, which were very similar to Pasties from the Upper Peninsula in Michigan
It was now time to do the Snack Attack, meaning the Candy Drop. With the steady winds we had all day, there wouldn't be any problem with the Messenger lifting the payload. As with any Candy drop, Walter and I had to explain the rules. Even though these were high school kids, they eagerly ran to grab the candy as it fell to the ground.
We did a little more flying. This time the kids were able to do the flying themselves. Jon and I were basically there to help if things went wrong. Under the very hot afternoon sun, we continued on until 4:30 p.m. Certificates were handed out to all the participants, and with the generous donations from Steve Tapp from Indiana, kites were given to the school for kids to continue on with the skills they had learned. The kites would be checked out similar to checking out a school book.
We took a few publicity photos before the bus was ready to depart. Then we noticed that several of the girls were back on the field trying to get a few more minutes of flying. The bus driver blew the horn. Reluctantly, they landed the kites and entered the bus. As we drove off, we determined that these first workshops were a huge success. Each kid was flying on their own by the end of the day, and maintained a somewhat stable flight.
Time for rest and dinner. We headed to Sharkies, a small tin roof restaurant with a view of the water. We enjoyed a very spicy meal of Fish, Bammy and festival. The sun began to set. We watched a small run down fishing boat bobbing on the water, while a couple of local beach dogs played under our table.
FRIDAY
Friday began as previous days, hot, high dew point, and another stiff breeze off the shore. Today's students were a bit younger than the high school children that we had previously. Even with the age difference, we began with our same intro and hands on. The age difference proved a little more challenging for several of the smaller flyers. This did not keep them from trying, and the smiles were just as big or bigger than they were before. One student stood out. He wanted to fly the stack of Dyna's. He did a very good job, and he told me if he continued to fly from his present age of 11 until he reached 30, he was sure he would be an expert by then. The day was deemed to be very successful. Jon had a couple of boys who seemed to pick up on flying, and a father and son who, by lunch time, were trying to fly together. Walter even spent some quality time on the rev simulator and graduated from the simulator to the 130 foot lines.

We had a swim in the pool, a meal of Jerk Chicken and talked until it was time to retire.
SATURDAY
Saturday began as it did the last couple of days. This time we had the assistance of Itelie as well as Tijye. Today was sponsors' day. Several of the sponsors and their families came out to learn also. We had several returning students from the previous day. Keisha, one of the sponsors, brought her two boys. They took to the rev. The younger boy said to me, "I thought this was going to be boring! And, boy, I was wrong.
This is fun!" And with a grin on his face, he proceeded to master the rev. Using the simulator, he would say, "I Got This!" Then realized that he needed more practice. We progressed to 19 footer lines and then to the 130 footers. There were others who learned the 4-line kite. Tijye and Itelie were also able to fly by the end of the day
SUNDAY
Sunday was a day of rest. We traveled around to see a few sights and purchased souvenirs. We also went to the field to watch Melody fly RC planes. We retired to the house for a wonderful meal prepared by Walter's wife Charlene and his daughter Jodene. As we dined, Walter, Tijye, Jon and I reflected on the past three days and how successful they were. We also discussed what we needed to do next, and how to keep the momentum going.
With the amount of smiles we received during the trip, I believe it was a success. At the end of every day, each student was able to fly, relaunch and fly with control. In my travels, I have learned that kids are pretty much the same around the world. Having a good time will bring smiles to something you may think is boring.

A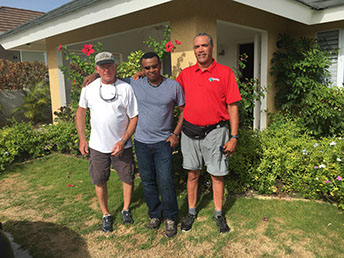 big thanks to everyone involved,
Sponsors:
Grizzly's Plantation Cove (Website)
(Owner Robert Bryan)
Royale Computers and Accessories (Website)
Keisha (Manager representing the company)
PrintWare Online (Website)
Innovative Corporate Solutions (Website)
As well as Jon, Walter, Carey Butler, Mr. Robert, Singing Melody, Tijye, Itelie, Chalene, Jolene, and anyone I may have missed. Looking forward to hopefully returning and seeing how the seed of kiting grows.
Wednesday
Wednesday, July 21, 2016, Jon and I headed down to Jamaica. It was during the Midwest heatwave. We were expecting hot weather, and after we left the plane, we were not disappointed. Once we had our luggage, we were greeted by our drivers Vern and Vernon who drove us to the venue where we met up with Walter. The field was on the picturesque north shores of Jamaica, with the trade winds coming off the blue waters that were crashing against the coral coast.
We made our plans for the next few days, then left to try the islands' famous Jerk Chicken at Scotchies, a shack restaurant just off the main road. It had an open courtyard with tables, wooden tree trunks for chairs, and a corrugated tin roof to block some of the intense sun rays. In the background you could hear the beat of a reggae song. We ate Jerk Chicken, Festival Bread and drank Red Stripe beer. It doesn't get any more Jamaican than this! So we retired to our house in a gated community and rested until the next day.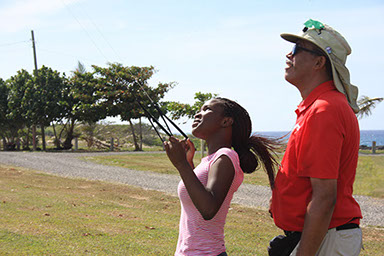 THURSDAY
Thursday after breakfast, we headed to the field to set up. Jon put together Skyburner Profiles and I set up the Revolution Simulator, a Vented Rev and a six pack of Tri Master Dyna-Kites. The bus from Manchester High School arrived around 10 a.m. with nine kids and a couple of teachers. Gathering around the picnic tables, we explained the general principle of sport kiting and handed out the AKA publication on team flying. We also explained how we got into kiting.